A Wine Old Time with the Mazda CX-30
Made with Soul. This is the Mazda promise, and Jim Freeman found the new CX-30 SUV from the Japanese brand an easy to acquire taste when he visited Simonsig, the original home of sparkling wine in South Africa.
Heaven forbid Driven be perceived to endorse drinking and driving, but it is indisputable that travel in the Winelands – to the Boland, Swartland, Overberg, and further afield – contributes enormously to the tourism and hospitality industry. One only need to look at the parking lots of wine estates over weekends to realise that hundreds of thousands of people climb in their cars to taste, dine, and buy at the cellar door every year.
Needless to say, the increase in wine tourism is in direct proportion to the improvement in the quality of South African wines, and it was not too long ago that they were internationally regarded as little more than "plonk". One of the fastest-growing segments of the wine and spirits industry is sparkling wines, known popularly as "bubbly", though local wine fundis refer to it as Méthode Cap Classique or simply MCC.
Elsewhere in the world, it would be known as "champagne". However, in terms of an accord signed between France and South Africa in 1935, South Africa relinquished the right to use regional names such as Champagne, Chablis, Bordeaux, or Burgundy on its wines in order to export rock lobster (crayfish) to France.
It has become almost standard at Winelands restaurants for patrons to be greeted with a glass of local MCC and, in fact, about 200 local wineries make their own bottle-fermented wines. Half a century ago, though, there were none: the very few South African "bubblies" were sweet wines injected with carbon dioxide, much as water acquires fizz from a SodaStream machine.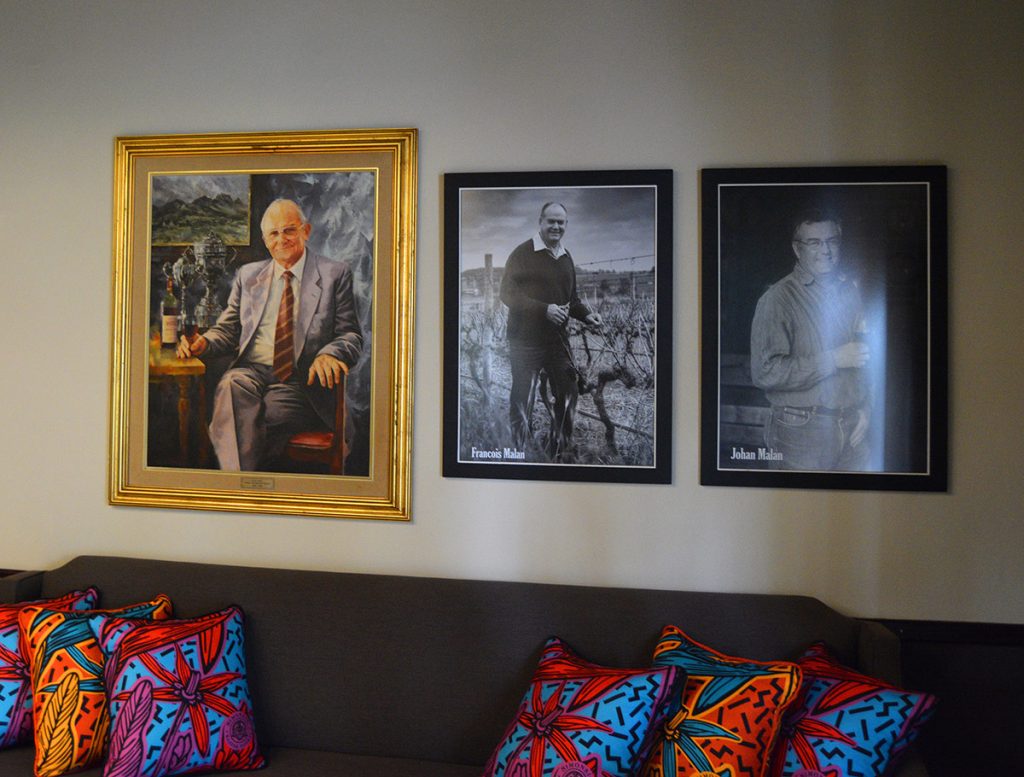 Half a Century Ago
That changed precisely 50 years ago when Frans Malan, owner of Simonsig in Stellenbosch, released the first MCC under the label "Kaapse Vonkel" after travelling to France two years previously to learn how to make sparkling wine in the méthode Champenoise (Champagne-style). Actually, as Johan Malan, current director of winemaking at Simonsig, recalls: "We had a surplus of Chenin Blanc, then known as steen, and my father needed to make another product to get rid of it." 
The process starts with the natural fermentation of pressed grape juice from the core varietal in a steel tank before it is blended with other varietals to form base wine for the MCC. Yeast, nutrients, and sugar are added, and the wine is bottled, capped, and stored in a cool cellar to ferment slowly, producing alcohol and carbon dioxide (second fermentation) over several years.
Bottles are then placed upside down in a rack and turned slightly each day until the dead yeast cells drop into the neck. They are then plunged neck-down into an ice bath so that the yeast cells freeze. The cap is removed, and effervescence disgorges the plug. A dosage of white wine, brandy, and sugar is added to bring sweetness to the required level before the bottle is re-corked and wired down.
"There was little demand for a classic bubbly in 1971 and the first vintage comprised only about 7,000 bottles," says Malan. "A bottle of Kaapse Vonkel sold for R3 – it was the most expensive wine on the market at the time – and every bottle we sold was a triumph. Bottles were sold in individual presentation boxes that contained a pamphlet detailing the production process."
The Simonsig MCC remained Chenin Blanc-based until 1987 when Malan, back from studying at Stellenbosch University and working in the cellars, started making Kaapse Vonkel from the traditional French champagne cultivars – Chardonnay and Pinot noir. And, thus, the MCC revolution began.
Brand New Bubblies
Simonsig recently marked the half-centenary of Kaapse Vonkel by releasing two new products, Satin Nectar and Satin Nectar Rosé, in eye-popping packaging for new entrants to the MCC lifestyle. It was mainly the "pink" wine that had prompted me to head to Simonsig with a new Mazda CX-30 whose body colour and styling boasted a sparkle of its own.
Mazda calls the colour Soul Red Crystal, but the rest of the world would probably recognise the hue as candy-apple – a comment that makes Simonsig tasting room manager Candice Franken laugh. "Candy is my 'stripper' name," she quips. Chic though they may be in their own right, the Satin Nectar wines can be seen as an introduction to the world of "classic" MCC that is uniformly dry or, in wine parlance, brut. Similarly, the CX-30 is a "crossover" between the Mazda CX-3 subcompact SUV and its CX-5 big brother, both of which I have driven in recent years and liked a lot.
I have done some research and head-scratching on the matter, and I guess the CX-30 remains in the sub-compact SUV category, in which case it could be compared with the Subaru VX, Hyundai Kona and the Honda HR-V 1.8 Elegance we tested a few months ago, albeit with a more powerful engine and more luxurious finishes.
It is particularly in looks that the Mazda punches well above its weight category; it would not look out of place in a parking lot filled with SUVs with far higher price tags. Personally, I think many people could mistake it for a Jaguar F-Pace at first glance.
Less is More
Mazda calls it "beauty by subtraction", adding a "less-is-more approach has been followed to develop a cabin that is as beautiful as it is functional". The CX-30 Dynamic model is adequately specced in terms of driver aids and safety enhancements, though it lacks the bells-and-whistles of the range-topping Individual. For example, the Dynamic only features rear parking sensors while the Individual has a reverse camera.
Standard across the range are LED headlamps with auto-levelling function, dynamic stability control, a head-up display, auto-dimming rear-view mirror and fold-in wing mirrors for idiots pushing shopping trollies. If I had a personal gripe, it would be that the map-sets for the navigation system apparently come as an after-market product and were not fitted to the test vehicle.
The CX-30 is marginally longer and appreciably wider (though considerably lower) than the Honda HR-V, and it is therefore surprising that the luggage space is significantly less; a disappointing 295 litres compared to the 393 litres of the Honda before folding down the back seats. It seems storage space has been sacrificed to provide passengers with extra legroom.
After testing the CX-3, I complained that the ground clearance was woeful (160 mm, unladen) for an SUV, and this has been increased by 15 mm on the CX-30. It still is nothing more than an urban warrior, but at least it will not rip its guts out on some of the higher "sleeping policemen".
Drive quality and performance are more than decent, though not spectacular, and the build quality and price positioning of this entry-level CX-30 derivative is good. Still, it may leave some people with (sorry, France) champagne tastes and ginger beer incomes aspiring to something better.
Report & Images © Jim Freeman