Save for a few die-hards, multi-purpose vehicles have fallen out of favour with the South African buyer. Now, however, Hyundai is offering a solution for families and businesses who need the versatility of a van with the comfort of a people mover.
Imagine, it is almost time for another school holiday. The kids have been loaded, bikes, suitcases, and the like are on board, ready for the road. "A well-deserved break, here we come!"
This is how it goes during almost every school holiday, with thousands of families pointing their double-cabs in the direction of their favourite vacation destination and then taking to the road.
Except, there is no Hilux or Amarok in question in our story. No, our family has invested in the new Hyundai Staria Multicab, and they're suitably impressed.
For those who have not yet heard of the Staria, it is Hyundai's replacement of their popular H1 van, launched initially as a luxury minibus towards the end of 2021. Hyundai has now also introduced a five-seater version of this futuristic-looking car that not only follows the same formula as the Staria in terms of driving feel and passenger space, but the Multicab is also a multi-purpose transport solution for families and small businesses alike. Almost like a double-cab bakkie, but with a roof and loads more space.
IN THE WILD
The Staria Multicab's natural competitors are not exactly bakkies but rather the VW Transporter and Toyota's Quantum Crew Bus. However, considering that so many families own a double-cab that also doubles up as a business solution, there certainly is a market for those same buyers to consider a bus-type solution rather than a bakkie. Especially so if they hardly ever venture off-road.
Hyundai's Multicab fortunately also doesn't look like a panel van. On the contrary, it is hard to distinguish it from the Staria bus if you don't know what to look out for. It is only at the rear, where the Multicab has swing doors, where the "ordinary" Staria is visibly different.
Unlike its van competitors, there are no steel panels at the rear where windows should be. Since Hyundai offers the Multicab with the same specification level as the entry-level Staria Executive bus, it has (among other things) good-looking alloy wheels that keep it in style with other more expensive vehicle options.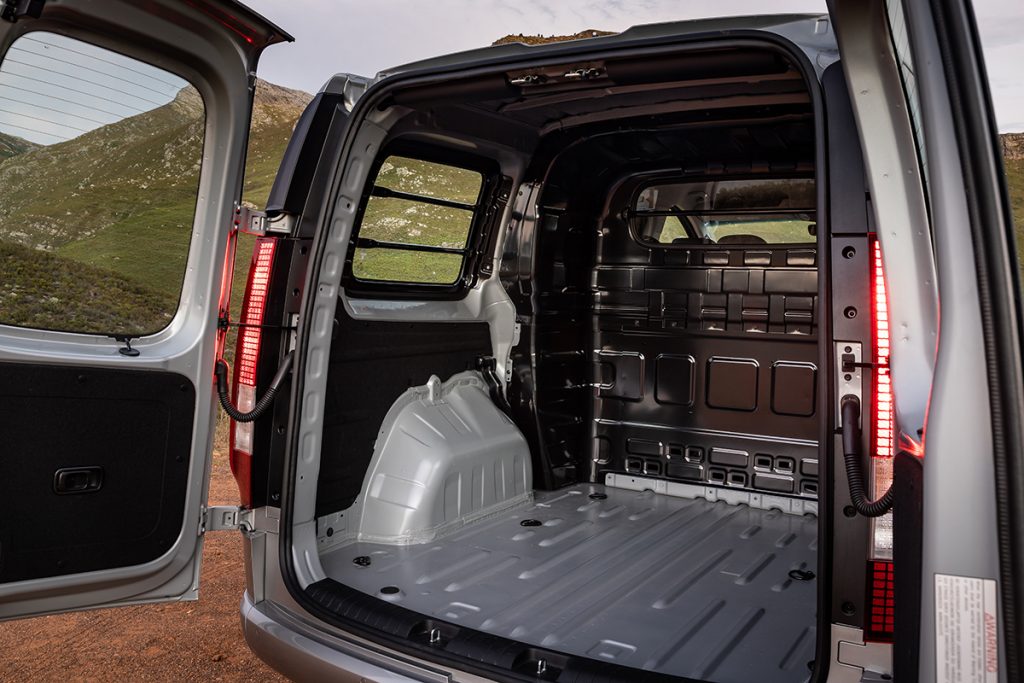 CABIN AND A HALF
The Multicab cabin looks almost as trendy as the car's spacecraft-like shell, and all the necessary gadgets and technology are included in the sticker price. The large touch screen gives access to Apple CarPlay or Android Auto technology, and below it in the console, you'll find the buttons that control the climate function, as well as a wireless smartphone charger. I'm a fan of minimalist yet functional design, and the Staria has it in abundance. On top of that, its seats (covered with artificial leather) are wonderfully comfortable.
Since the Staria is much broader than the outgoing H1, even three adults can sit in relative comfort in the passenger section. This part of the cabin is separated from the loading space by a solid steel partition, ensuring that it doesn't feel like you're riding in a panel van.
CARRY ON STARIA
Of course, the massive load bay is where the Staria Multicab reigns supreme over all of its competitors. With an almighty 2,890 litres at your disposal, there is no reason to leave anything at home when the road beckons, and you can rest assured that your belongings can be locked securely in the rear. Security bars inside the load bay windows add an additional layer of safety in this respect.
With Hyundai's tried and trusted 2.2-litre turbodiesel mill doing duty – mated to the same eight-speed automatic as found in the Palisade and Santa Fe SUVs – carrying a significant load should also prove easy enough.
LAST WORD
In general, I truly enjoy the way a minibus drives since I grew up with VW Kombis and only have fond memories of them. The Staria Multicab takes the van concept to a new, more practical level, making it perfect for a new generation of buyers who need more than just a family ride.
Report by BERNIE HELLBERG JR | Images © HYUNDAI SOUTH AFRICA