MAGNIFICENT MIDLANDS MEANDERING
Still one of South Africa's most desirable and iconic SUVs, the Toyota Prado recently received several key upgrades that Driven put to the test over more than four weeks and 4,000 km.
Prado is more than a motoring icon; it is the everyday transport for thousands of South African families, and, for many, also their trusted companion on long holiday journeys. Over December, we saddled up a brand-new Prado VX-L, sporting Toyota's extensively retooled 2.8-litre GD-6 turbodiesel engine and new tech titbits, and headed to the KwaZulu-Natal Midlands not once, but twice.
Being one of the most capable off-roaders that Toyota has ever produced, and one of its most desirable – despite the current generation Prado being 11 years old already – it's hard to spend a significant amount of time in the car without growing to appreciate what it is, and love what it represents.
More than just "curb appeal", the Prado draws its heritage all the way back to the origin of the Land Cruiser nameplate, the BJ Series truck – a hybrid workhorse/passenger truck that debuted in Japan not long after the Second World War. The BJ Series truck cemented the Land Cruiser reputation with its go-anywhere capability.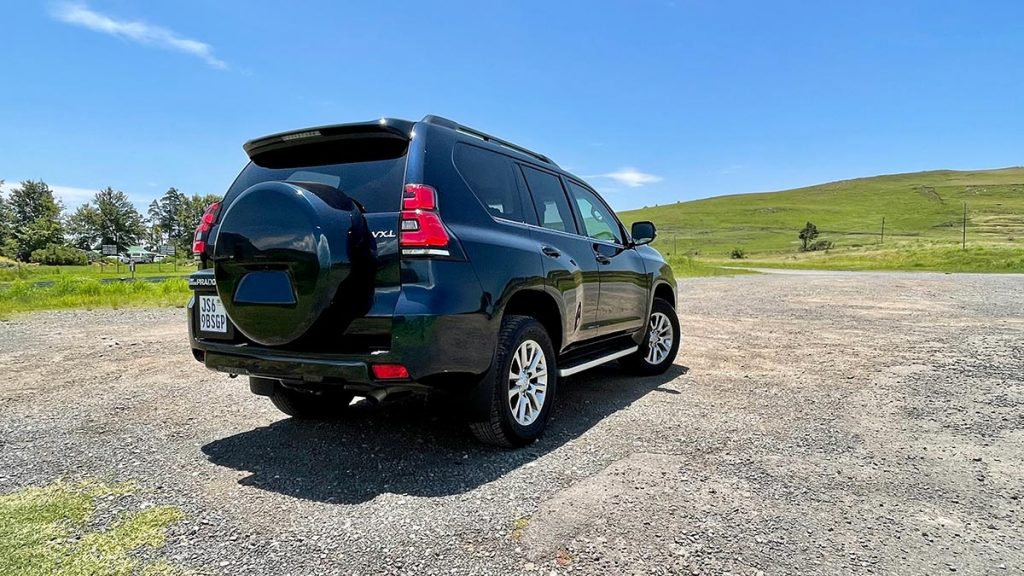 A NEW LEASE ON POWER
Given its age, one would expect the current-gen Prado's popularity to have started declining years ago. However, over the years, Toyota has managed to keep the Prado relevant through regular upgrades to its exterior, interior, and powertrain. At the heart of the Prado's most recent upgrades, is an additional 30 kW of power and 100 Nm of torque derived from upgrading to the latest-generation 2.8-litre GD-6 turbodiesel engine that also serves in the upgraded Fortuner and Hilux.
Now mated to a six-speed automatic transmission (previously five-speed), Prado's overall drive experience is significantly improved, while its overlanding and towing credentials have also benefitted from the higher-performance engine that now delivers a maximum of 150 kW @ 3,400 r/min and 500 Nm over a 1,600-2,800 r/min band.
The latest generation 2.8 GD-6 engine boasts several upgrades including a new ball-bearing turbocharger with a larger turbine and impeller, and improved engine rigidity and cooling. By optimising the pistons and piston rings, making changes to the cylinder block and head, increasing the fuel injection flow rate, and adopting new high-performance materials for the exhaust manifold and cylinder-head gasket, Toyota also claims improved fuel consumption.
We managed average fuel consumption figures that were not too far removed from the official 7.9-l/100 km average touted by Toyota during both trips to the Midlands. On the first – carrying five adults and luggage – we recorded an average of 9.2-l/100 km, while on the second round – carrying only two adults and much less baggage – we realised 8.6-l/100 km over the same road.
HIGHER GRADE SENSE
Toyota amended the Prado range to include the range-topping VX-L back in 2018, extending the range to include the entry TX-grade, and middle-grade VX.
As before, the TX sets the tone for standard specifications with automatic dual-zone climate control, a six-speaker touch audio system, electrically adjustable driver's seat, illuminated entry, cruise control, park distance control, keyless entry, auto door lock, three power outlets, Bluetooth connectivity, USB, third row (manually-adjustable) seating, and reverse camera. There is seat heating and ventilation at the front, while the second row of seats is also heated. The VX model adds memory function for the driver's seat, a 14-speaker premium sound system, multi-info LCD, power tilt-and-telescopic steering adjustment, rain-sensing wipers and powered third-row seats.
At the top of the luxury ladder, our test unit came in VX-L grade, where every bell and whistle you will need both on-, and off-road is added.
Toyota Safety Sense, which encompasses Pre-Collision System, Adaptive Cruise Control, Blind-Spot Monitoring, Lane Departure Alert and Rear Cross Traffic Alert, spearheads the Prado's notable safety credentials. There is also auto-dipping high beam LED headlights, and a power-operated tilt-and-slide moonroof.
AT HOME IN PRADO
Having only ever sampled either the VX- or VX-L grades of the Toyota Prado, my experience of SA's favourite luxury off-roader is a little biased. I enjoy the soothing spaciousness of the Prado's cabin, and its unique brand of practical luxury more than makes up for the fact that Toyota hasn't yet entirely rid the car of its somewhat floaty road-manner. And, evidently, thousands of satisfied Prado customers across the country agree with this sentiment.
Yet, by making slight tweaks to the on-board tech offered in the VX-L, living with the Prado has now become even more convenient.
A new-generation multimedia system is fitted across the range, which now incorporates a larger 9" touchscreen display (previously 8" in diameter), enhanced voice recognition, and compatibility with Apple CarPlay and Android Auto.
During our almost 4,500 km enjoyed in the Prado, the larger touchscreen display came in quite handy, especially when parking the rather substantially proportioned SUV. One criticism I have to raise is that despite the VX-L's premium sound system, Bluetooth calls were often too noisy for the person on the other side to hear properly. I eventually discovered that the direction of the centre-mounted front air vents was to blame. When set too high, air from these vents blows on the telephone mic placed in the roof lining, causing the anomaly.
BUNDU BOUND
Anyone who knows the KwaZulu-Natal Midlands, will know that the area offers plenty of off-roading opportunities – and I'm not only referring to the deteriorating state of the R74 between Harrismith and Bergville, or the condition of the R103 around Nottingham Road and Mooi River, mind you. One doesn't even have to try very hard to find some serious mud around these parts, too.
One such road, the meandering lane up to our holiday digs – Lemonwood Cottages Manor House – gave the Prado a proper muddy off-road workout after two days of scattered showers in the area.
Not even the Midlands' soggy marshes are a match for the Prado's A-TRAC off-road system, with control made easy through the Multi-Terrain Select system on VX and VX-L models. MTS allows you to select one of five pre-configured modes (mud & sand, loose rock, mogul, rock & dirt and rock) to tailor the Prado's traction control, transmission characteristics, power delivery and suspension settings to the terrain at hand. Downhill Assist Control (DAC) and Crawl Control are also included – features that came in quite handy in some parts during some of our more waterlogged excursions – while Toyota's newly-added Drive-Mode Select feature, is also a welcome addition to the diesel line-up from the V6 version.
LAST WORD
The Land Cruiser Prado's greatest strength is its adaptability over the decade or so that the fourth generation has done duty. Toyota deserves (almost) three tonnes of credit for keeping it relevant in a market replete with competent contenders. Whether the latest changes will be sufficient to see the Prado through what is rumoured to be at least another two years before the LC 300-based fifth-generation Prado likely arrives, remains to be seen. For now, we're still pretty enamoured with the burly Cruiser and would pick it over many others almost any day of the week – especially the muddy ones.
Report & Images © BERNIE HELLBERG JR