TRIMMED DOWN, LUXED UP: Honda 1800 Gold Wing Tourer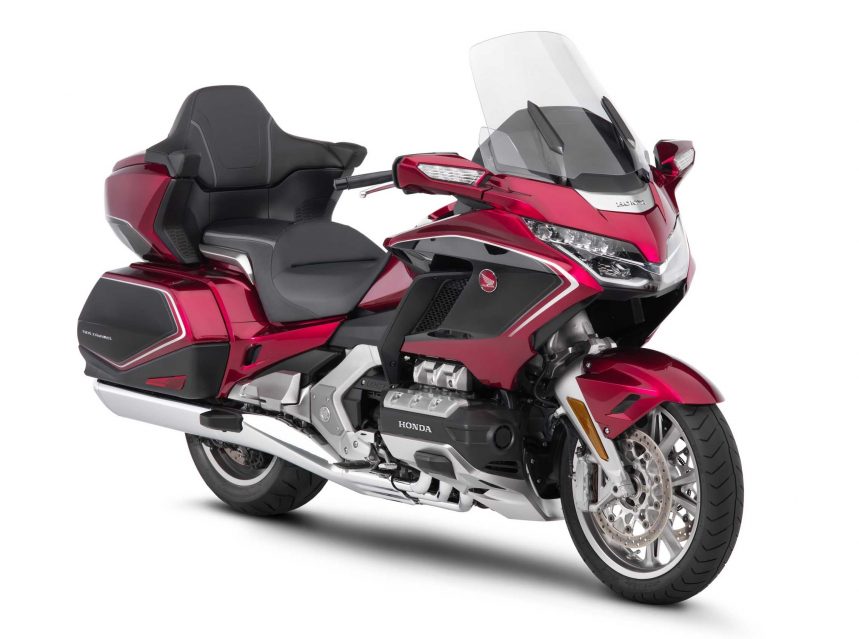 A staple of the Honda motorcycle line-up for four decades, the iconic Gold Wing has picked up a fair amount of weight over the years. Now, Honda opts to go smaller with a new 1.8 litre six-cylinder luxury tourer, as GAVIN FOSTER discovers.
Honda's Gold Wing, born as a silky-smooth shaft-driven naked 1,000 cc motorcycle in 1975, has over the decades evolved into the massive 1.8-litre six-cylinder icon that is today the Japanese company's flagship tourer.
The recently introduced 2018 model, although spiritually the same machine as last year's offering, shares nothing tangible with its predecessor other than its horizontally-opposed cylinder layout, shaft drive, and some nuts, bolts and other fasteners.
Some of the important numbers are the same as in the 2017 model – six cylinders, two wheels, one rider, and one passenger – while others differ. Engine capacity is now 1,833 cc versus the 1,832 of the 2017 model, while fuel capacity has been reduced by four litres to 21, and there are now four valves per cylinder rather than two.
Honda says that the whole bike has in fact been shrunk, making it more wieldy and up to 45 kg lighter than its predecessor, depending on the variant. The new bike comes in two versions; the standard GL1800 Gold Wing Tour with a six-speed manual gearbox, and a DCT version with a seven-speed dual-clutch transmission, a rider airbag and a top-box.
SMOOTH AS SILK
The engine of the new Gold Wing, although sharing its flat six architecture with that of the 2017 model, really is all-new, inside and out. Relatively compact, it is 6.2 kg lighter and 33.5 mm shorter than the old motor, while the bore and stroke have been reduced by 1 and increased by 3 mm respectively to make them both 73 mm.
The engine, with just 125 hp available at 5,500 from a whopping 1.8 litres is massively under-stressed, while the healthy 170 Nm of torque at 4,500 r/min will come in handy for getting half a tonne of rider, passenger and motorcycle moving in a hurry. Honda says that the bike is 20% less thirsty than the outgoing model, thanks to the new engine, the weight reduction and the bike's smaller, more svelte frame and bodywork.
THE REASON FOR GOLD WING
Why would Honda start with a 1,000 cc four-cylinder tourer weighing 265 kg, allow it to grow over 43 years to a gargantuan 1,800 cc and 430 kg, only to cut its bulk back by 10% in 2018? The answer, says the factory, is because the designers wished to attract a younger generation of riders.
The aim was to bring fun back into the equation as well as introduce a range of electronic gadgetry, appropriate for the flagship model of the world's largest motorcycle manufacturer.
The new bike now includes features like a ride-by-wire throttle, four ride modes, traction control, LED lighting, and electronically adjustable suspension. There's also hill-start-assist and reverse gear in the manual transmission model and a creep (forward and backward) function on the DCT. Looking in the office, you'll find a 7" TFT screen to provide navigation and audio information, and Apple CarPlay allows iPhone users to get up close and personal with the entertainment system.
There are also tyre pressure monitors with the information being displayed on the screen, the electrically-adjustable windscreen which has been made smaller to improve aerodynamics, cruise control, and luggage aplenty — although not as capacious as before. Honda says that research showed that most owners tended to engage on shorter two or three-day rides rather than marathon trips across America or Europe, so the luggage size has been reduced.
The cases can be unlocked via the remote key, and hydraulic dampers assist with smoothing out the opening and closing. Interestingly, the passenger has audio controls situated on top of the right luggage pannier.
LAST WORD
The Honda Gold Wing has earned an enviable reputation as a full-dress touring motorcycle, but its bulk was no doubt a deterrent to many buyers. The new model is lighter and nimbler than its predecessor, as well as more sophisticated, with electronic riding aids and comfort features that are now as good as it gets. Whether it will attract younger riders in South Africa remains to be seen, though. At between R367,000 and R392,000 it's not affordable for many, but it will, as always, continue to have a solid core of followers who know what they want and where to get it.

Report by GAVIN FOSTER | Images © HONDA SOUTH AFRICA